The inspiration for my story, Detective X, came from two different films: Cure (1997) and Oh Lucy! (2017).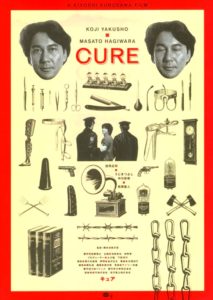 Cure is a horror-thriller film written and directed by Kiyoshi Kurosawa. The story follows a detective in Tokyo investigating a serial killings case. All the murders have details in common, but they are each committed by different people, without an obvious motive. The film stars Koji Yakusho and Masato Hagiwara. There are also performances by Tsuyoshi Ujiki and the late Anna Nakagawa.
I remember watching Cure in the theaters and loving it. I was happy to see that there was a home video release in 2018, but it unfortunately wasn't being released where I am, in the United States. It's a shame because I really would like to see it again! I recommend you see it if you can.
Oh Lucy! is a drama film directed and co-written by Atsuko Hirayanagi. The story follows the life of a single, forty-something office worker in Tokyo who is convinced to take English lessons. This ends up leading the main character through events that are full of adventure and emotional awakenings. The film stars Shinobu Terajima and Josh Hartnett. There are also performances by Kaho Minami, Shioli Kutsuna, and (from Cure) Koji Yakusho! There's also a small cameo by Megan Mullally :O)
Oh Lucy! is a well written and entertaining story. It's currently available for rent on disc or streaming and I recommend you see it.
These films don't have much in common other than the fact that I enjoyed them both, the stories both take part in Tokyo, and the wonderful Koji Yakusho is in both films.
For some reason, I felt like I wanted to connect the storylines together. That's how the story of Detective X was conceived.
Detective X will be posted on my website in weekly increments. The beginning of the story is set to release this month. I'm excited to share it with you!