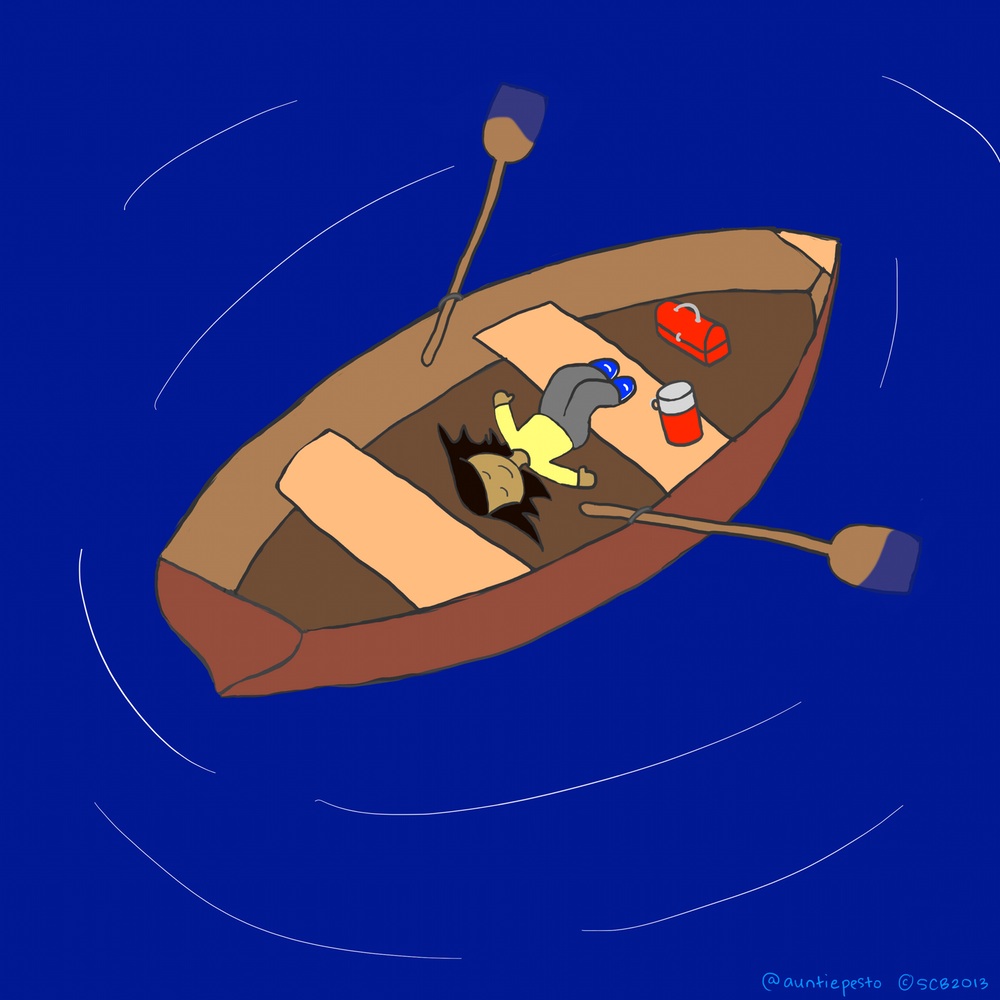 Dailies 06/03/13
Daily Doodle: In the Middle of a Lake
–
Song of the Day: Just a Short Time After (Reconstruction Pt. 1) by Javier Navarrete feat. The Landau Orchestra (from the Extended Version of the Pan's Labyrinth soundtrack)
http://www.youtube.com/watch?v=0aRMSfltS6s
–
Musical Pipe Dream: I've thought about this one for a long time.
There would be a show with an orchestra and performers that would dance to the live music. The cast would consist of a main female and a main male and sixteen dancers to flock them. The costumes are leotards and tutus that are a pale blue. The makeup is pasty and crusty and it even cakes and crackles on the dancers' shoulders. At the beginning, a single, blue spotlight is on the main female dancer. When the cello is being plucked, she is on point on her left foot and extends her right leg from front to back, doing lyrical movements that match the cello. As the horn section rolls in, the lights brighten to the outer parts of the stage and have an orange glow that contrasts with the blue center. The main male and sixteen dancers move in closer and closer towards the blue light until the main male meets the main female. He holds both of her hands and she does similar movements as in the beginning with her legs, but this time she's pushing even farther, extending her flexibility. She doesn't fall because her hands are being held. The sixteen dancers are on their knees and follow the lyricism of the horns as they sweep the floor to and fro with the palms of their hands. They circle be on their backs and sweep the floor with the backs of their fingers. The movements of all of the dancers get stronger until they're all moving at the same pace and in unison. The number ends with the sixteen dancers in a tight circle around the main dancers all raising their heads on the last beat. They are looking straight up into a single spotlight that shines orange.
As for me, I would love to be the saxophonist in the second chair. For the horn portion of the piece, all of us would stand up and raise our shoulders and swing our saxophones to the beat. As we keep blowing our horns until the last moment, the lights black out on us while we're still standing as the orange light shines down on the dancers.
Do you think that Javier Navarrette, The Landau Orchestra, and a dance company would be into doing something like this?
–
Blurb 1/365: I had food poisoning a few weeks ago and I threw up (and ruined) our trash can in the bathroom. I feel completely better now and we got a new trash can and I was happy about it so I danced.